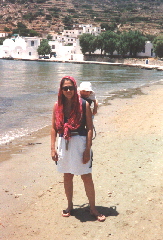 When we live in Lesvos we have a choice of a few beaches. There is the nearby beaches of Campo Antissa and Gavatha which are long stretches of sand where many times we are the only people there. There is  also Skala Eressos, a mile long beach, a third of it lined with cafes where young Scandinavian's watch their kids play in the sand and sea a few feet away. It's an easy choice for us which beach to go to and we find a spot in the vicinity of the largest group of kids. Within minutes our daughter is playing like she has known them for years, in fact when they leave for lunch she follows them and we follow her. Getting her into the car to leave is the only problem but compared to being on beautiful quiet Campo Antissa with her screaming it's a breeze. Vatera Beach is a great place for kids and we stay at the Canadian ownedAphrodite Hotel not just because it is a beautiful hotel right on the beach, but because there always seems to be a lot of kids playing there. (They also have a trampoline which was in use every minute of the day by the children staying at the hotel. Parents were able to relax on the beach or in the cafe-taverna while the kids endlessly jumped).
If you are traveling with your family then a family beach is where you want to be. Forget about staying in the village and taking a bus to the beach. Find a place where the beach and the village are the same thing. Vatera in Lesvos and Kamares in Sifnos are both great, Kamares maybe better because it is a bay and the sea is generally calmer even on windy days. In Vatera if the wind is blowing in there can be waves because it is open sea though generally it is calm too. Both have cafes on the beach, restaurants on the beach and even rooms or hotels on the beach. What this means is that even if you don't feel like being on the beach all day your child can. You can still be a few feet away from them, doing your own thing. Both beaches have beach chairs and umbrellas for rent which seems to make kids more comfortable, like having a home. But the most important thing is that both beaches have other kids.
Here's a great beach tip from a reader: Freeze 3/4 bottle of water overnight and take it to the beach, you get a slow melting cool sip for quite some time. without the need for freezer bag etc…. great for when the kids were small and needed a quick refresh.