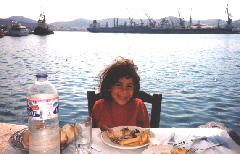 If you are traveling with one child or with two that are not getting along, your method of choosing a  restaurants should be the same as choosing a beach. If there are two restaurants and one is a traditional Greek taverna filled with locals and a scattering of seasoned, and the other is a Greek fast food souvlaki joint but full of families and kids running wild, guess which one you will find the most peace. The second of course because no matter how much running around your child does with the Scandinavian kids from the next table, and no matter how many times you have to grab her as she races by chasing someone and tell her to behave, nothing is as bad as having the only unhappy child in the quaint traditional Greek Taverna.  Anyway even in the crappiest fast food joint you can find something you will enjoy eating. Have a snack and wait until she runs out of steam and passes out in the stroller and you can go to the quiet traditional taverna and eat in peace. A good thing about Greece is the restaurants are open late. You just have to outlast your kids.
For older kids, a village like Kamares, Sifnos or Eressos Lesvos is great because while you eat a leisurely meal and then relax and converse with your neighbors or friends you have made, the kids can run wild with the children of other travelers or with the locals. There are really very few dangers. The same goes for the Plaka in Athens since it is closed to automobile traffic. 

Food for Kids who hate Greek food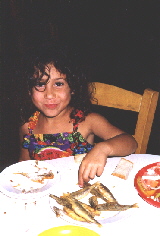 When all else fails you can always get eggs. Fried or scrambled. Omelets with cheese, ham or bacon, or my favorite, with feta, tomatoes, potatoes and onions. Breakfast, lunch or dinner. In restaurants, fast food joints or cafeneons, eggs can save the day. You can get spaghetti in just about any restaurant, with meat sauce, tomato sauce or just cheese. Pizza is available in many places too. The key is to get them interested in souvlaki because then life becomes a breeze. You can sit down to a quiet dinner and send them next door on their own to buy a souvlaki like it's a big cultural adventure. When we were kids that's all we ate. Cheese pies (tiropita) and spinach pies (spanakopita) are also easy to find and make great snacks. Hamburgers are generally awful, not that there is anything wrong with the meat but they have not mastered the ketchup thing yet. Keftedes are little fried meatballs and they are usually a big hit. Chicken tastes like chicken anywhere only better and it's the least expensive meat on the menu. It comes with roast or fried potatoes. Get them to try the roasted ones first and if they don't like them switch to fries.  French fries are amazing. Kids love them and in many places they are cooked in olive oil so you can enjoy them too. In places like Lesvos where fish are cheap you can get marides which are tiny deep fried fish that can be eaten whole. My daughter loves them and yours may too.